My favorite part of being in a salon is the conversation!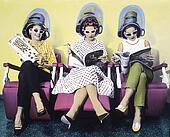 I sit by the phone, waiting for it to ring, most of the day. When the dryers aren't going, I can hear everything! I love it! Just the other day, two of our stylist & a client were talking about what happens to our bodies when we're pregnant.
(Congratulations Gillian who is 18 weeks along!)
The conversation moved from baby sizes to belly sizes to even boob sizes! That was the funniest part of the whole topic, comparing boobs!
(don't worry, we are a very modest salon. no one pulled anything out ;)
I love it when clients bring in their friends & everyone is just having a ball!
So next time you have an appointment, tell your friends & bring them in! Who knows, them may find their favorite new stylist here!